XML Threat Protection
XML Threat Protection é um interceptor que valida o conteúdo de um XML a partir de limites pré-definidos para uma série de componentes. Assim, ele evita que ataques maliciosos que enviam informações fora do padrão esperado sejam bem-sucedidos.
Para configurar o interceptor, temos que preencher os campos da imagem abaixo com os valores esperados. Você pode ler a respeito de cada uma das informações requisitadas nas próximas subseções.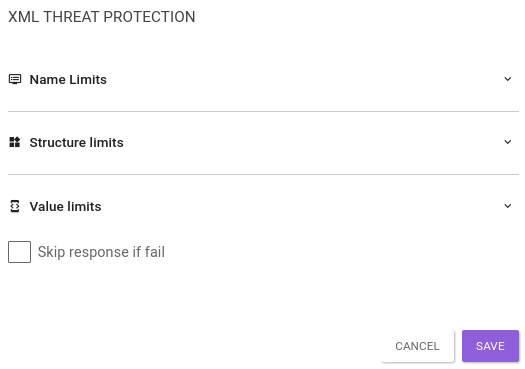 Erros
Here are the errors that can be returned when the interceptor finds any irregularity regarding the specifications above.
| | Erro | Cód. HTTP Requisição | Cód. HTTP Resposta |
| --- | --- | --- | --- |
| XML | XML format invalid | 400 | 500 |
| Name Limits/Element | Name limits element exceeds the maximum allowed for this API (n) | 400 | 500 |
| Name Limits/Attribute | Name limits attribute exceeds the maximum allowed for this API (n) | 400 | 500 |
| Name Limits/Namespace prefix | Name limits namespace prefix exceeds the maximum allowed for this API (n) | 400 | 500 |
| Name Limits/Processing Instruction Target | Name limits processing instruction target exceeds the maximum allowed for this API (n) | 400 | 500 |
| Structure Limits/Node depth | Structure limits node depth element exceeds the maximum allowed for this API (n) | 400 | 500 |
| Structure Limits/Attribute count per element | Structure limits attribute count per element exceeds the maximum allowed for this API (n) | 400 | 500 |
| Structure Limits/Namespace count per element | Structure limits namespace count per element exceeds the maximum allowed for this API (n) | 400 | 500 |
| Structure Limits/Child count | Structure limits child count exceeds the maximum allowed for this API (n) | 400 | 500 |
| Value Limits/Text | Value limits text exceeds the maximum allowed for this API (n) | 400 | 500 |
| Value Limits/Attribute | Value limits attribute exceeds the maximum allowed for this API (n) | 400 | 500 |
| Value Limits/Namespace URI | Value limits namespace URI exceeds the maximum allowed for this API (n) | 400 | 500 |
| Value Limits/Comment | Value limits comment exceeds the maximum allowed for this API (n) | 400 | 500 |
| Value Limits/Processing Instruction Data | Value limits processing instruction data exceeds the maximum allowed for this API (n) | 400 | 500 |
| Invalid Content-Type | XML threat protection validation failed: Invalid Content-Type in Header → (Content type) | 415 | 415 |
| Content-Type not found | XML threat protection validation failed: Content-Type not found in Header | 415 | 415 |