Service Mashup
A imagem abaixo apresenta as informações que compõem a configuração do interceptor.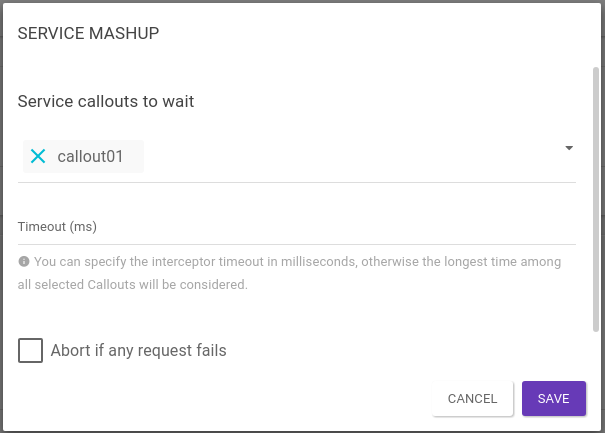 _ Service callouts to wait_: lista todos os Service Callouts assíncronos disponíveis que não sejam do tipo Fire and Forget e que não estejam contidos em outro Service Mashup.

Timeout (ms): determina o tempo limite de espera em milissegundos. Caso nenhum valor seja inserido, será considerado o maior tempo limite configurado entre os Service Callouts selecionados.

Abort if any request fails: aborta a requisição se algum dos Service Callouts selecionados falhar. Caracteriza-se uma falha quando o status code da resposta é diferente do esperado.
Observações
As respostas de cada Service Callout são armazenadas no mapa $call.contextVariables. A chave é o Variable name do Service Callout e o valor é a resposta, um objeto REST Response com todas as informações da requisição realizada.

Além do Service Mashup, é possível capturar as respostas de cada Service Callout em um interceptor personalizado JavaScript e/ou Java.